Blog
Why accessible information is important for healthy relationships
CHANGE, a leading human rights organisation, says sex education is needed for everyone.
We are based in Leeds but work in the UK and across the world for equal rights. Our aim is inclusion for all people with learning disabilities. We employ people with learning disabilities to co-run projects, co-deliver training and co-create accessible information. In this blog we will talk about our research into supporting people with learning disabilities to have healthy relationships and about how we produced our Easy Read Sexuality Collection.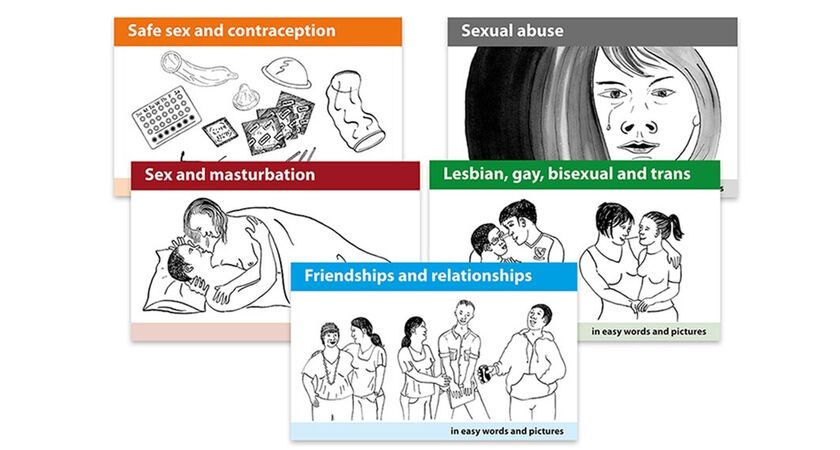 When it comes to talking about sex and relationships, we know from our staff and volunteers with learning disabilities that there can be multiple barriers to having a healthy relationship, especially for people living in residential care homes.
Our colleagues with learning disabilities say: (read more about this discussion here)
Sometimes a support worker has to go with me on dates which means I cannot have any privacy.
If I want to stay overnight with my partner, I have to give his care home many weeks notice.
We have relationships but often non-learning-disabled people, like our carers and support staff, stop us from making our own decisions about our relationships. In our care homes, we are asked questions and made to explain when and why we want to spend time alone with our friends or partners. It makes us feel embarrassed and cross.
Assumptions are consistently made that people with learning disabilities are not able to understand and do not need to have information and guidance on sex and relationships. This is not the case. Adults with learning disabilities have told us that they did not get comprehensive sex education at school and a lot of adults' struggle to form relationships because of this. Poor sex education can have extremely negative consequences. For example, it is common for women with learning disabilities to be in relationships with non-learning-disabled men who are violent towards them and their children, if they have them. Adults with learning disabilities have told us that they often watch pornography or current TV shows that involve relationships to learn about sex and relationships. Currently there are few spaces for adults with learning disabilities to openly discuss and learn about relationships and safe sex.
We worked on a three-year project with young learning-disabled people aged 18 -25 who did not know much about sex. Each week we held a drama group to find out what they knew and what they wanted to know. The young people said they wanted Easy Read books on sex and relationships, especially information about puberty so that it is less frightening. That's why we made 5 Easy Read booklets all about Friendship, Sex and Relationships. These booklets cover vital topics including friendship, sexuality, contraception, and abuse. To move forward we need to realise that all people with learning disabilities have a right and desire to have loving relationships. Better quality, more accessible information and support is vital and means that people with learning disabilities can have healthy relationships.
You can find these products on the CHANGE website shop ready to buy today. If you would like to know more or need advice on accessible information please get in touch.